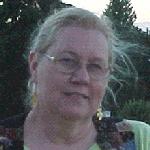 As a five year old, Donna prayed to invite Jesus into her heart and forgive her sins. She attended church regularly and worked in leadership as a youth. She was seen as a strong believer in Jesus, but in 1965 on a college campus she was given a verbal challenge by a young man who asked,





"How can you spend your time going to church when you can't prove God exists?"





The question had entered her mind, but she found no one who could help her grapple with the answer, so the thoughts were swept under the rug. She continued to believe, but now her integrity as a Christian had slipped away. A series of life struggles led her to pray on her knees, asking God to show her if He truly existed. God was faithful and she began a different kind of walk with God. Her sister gave her Edith Schaeffer's book,

What Is A Family?

That was the beginning of her reading the works of both Francis and Edith Schaeffer.

Escape From Reason, The God Who Is There,

and

He Is There and He Is Not Silent

gave answers concerning the existence of God and an open door of courage to begin to speak openly about the reality of the existence of God and how one can know.

L'Abri, A Way of Seeing, Affliction, True Spirituality, Pollution and the Death of Man, How Should We Then Live?,

and

Hidden Art

offered instruction for living in a manner that demonstrated the existence of God.





Donna's husband, works as a lumber trader and is involved in mission in Brazil. They live in Oregon and have three children and five grandchildren.



You may contact her by writing to cworkers@yahoogroups.com.