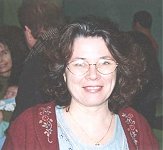 At the age of 12, Rosana came to faith in Christ, through the work of the Holy Spirit and the preaching of the Gospel by a youth organization called Christian Endeavor.

Her first exposure to Francis Schaeffer was at a youth retreat in 1970 where Escape from Reason was studied. Throughout the years, she also read True Spirituality, How Should We Then Live, The God Who is There, The Mark of the Christian, Edith Schaeffer's, Tapestry, and saw the film series 'Whatever Happened to the Human Race?"

When she first came to what is now the Chalet List several years ago, she was trying to reconcile God's sovereignty and man's responsibility. Donna was sure that these two truths came together somehow. At that time, a debate was raging on the list about this very topic and what was said helped her immensely. After studying scripture, prayer, reading (FAS & others), and trying to think things through she learned that these were two parallel truths. In the end, Donna concluded that either God is Lord of all things or lord of no thing. If He is Sovereign, that means that all the created world is under His rule. It also means that if He is to accomplish His purpose then He is the Lord of history. Nothing is outside of Him or beyond His control. At the same time, man is responsible and the choices he makes are valid. Man is responsible before a Holy God for his sins and responsible to believe and reach up with the empty hands of faith to receive God's free gift accomplished through Christ's finished work on the cross.

True Spirituality by Dr. Schaeffer helped Donna to refocus on the centrality of the cross to all of life. Through it she discovered afresh God's great love and truly amazing grace.

This ministry is a community where hard questions are sometimes asked and honest answers are given. It is a place where people strive to show the mark of the Christian before a watching world.

You may contact Rosana by writing to cworkers@yahoogroups.com.