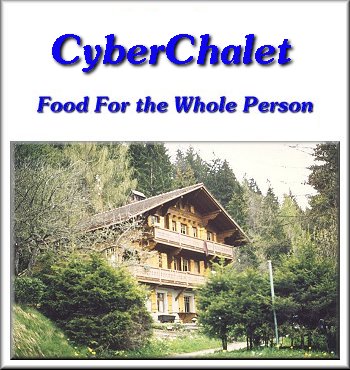 Mission Statement

CyberChalet serves as the main email discussion chalet in Cybershelter. People from a variety of backgrounds and interests will join in talking about ideas and issues that concern people today. Gathering for cyber tea (or cyber coffee, if you like) in CyberChalet will be similar to the early days of Francis and Edith Schaeffer's work in Switzerland,
In CyberChalet you may find atheists, Buddhists, Christians, Hindus, Moslems, philosophers, and skeptics gathering for discussion. CyberChalet will always include many different types of people. Cybershelter workers in CyberChalet will seek to demonstrate the existence of God and to show forth the Truth of the scriptures in the spirit of the work of Francis and Edith Schaeffer. We will try to answer honest questions in an honest manner. We are committed to open discussion, and we will seek to communicate with others according to the principles Francis Schaeffer as outlined in his book Mark of the Christian.
Step into CyberChalet. Come just to listen or actively participate. Here you will find passionate Christians from a variety of traditions or denominations, each one having an interest in the work of Francis and Edith Schaeffer. Here you may find others who are just as passionate in their unbelief or skepticism. All we ask of all our guests is the type of etiquette that grants others the respect that should be expected in a person's real chalet or home.
Staff Member in Residence: One or more of the current Staff
CyberChalet is on Yahoo! Groups. For subscription information and how to access the archives for this discussion list, please refer to the main CyberChalet group page.
Looking forward to your participation :-)
In the Lamb,
L.G.
Cybershelter
Staff Member