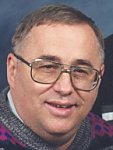 Allan was a student at the Swiss L'Abri in the summer of 1978. In 1979 he had the opportunity to visit the English L'Abri at Greatham Manor. He also was stationed very close to the Southboro, Massachuessetts L'Abri from 1979, when it first opened, until 1981 and was able to participate in various activities at that branch.

Allan retired from the U. S. Military in 1991. He was on staff at what is now Cairn University until 2013, where he finished his undergraduate degree in 1995 (B.S. in Bible Ministries) and started his Masters Degree in Bible. Allan, his wife Young, and his son Allan Joseph (AJ) presently reside in Penndel, Pennsylvania. His daughter Ruth resides in Holland, Pennsylvania with her husband John and son Vincent Caroselli. The multi-cultural family currently attend various churches within the Bucks County area of Pennsylvania.

Allan has also had the privilege, since March of 1998, of working with L.G. Parkhurst, as the co-owner of the LABRI-L electronic mail discussion list, which grew into the Friends of L'Abri ministry and is now known as Cybershelter.

You can read more about Allan's L'Abri experience in the online story Francis Schaeffer and the Art of Salad Making. His Masters Thesis, Transferrable Concepts From L'Abri (PBU, 1997), is available online. Plus there are other useful resources as well as other ministries he and his family are currently involved in on the second web site affiliated with Cybershelter called ChaletEagle.org where he is the staff person in residence along with his personal family.

You can write him directly at alwinger1@gmail.com.